$15 gift certificate
Great Big Outlet
Sold Out
Sorry, this item is currently sold out.
Great Big Outlet is Perfect for Gifts:


In today's economy, why pay more than you have to for anything? All of our products come with the original warranty, are factory authorized, and the price is absolutely unbeatable. Company Picnics and Events always have door prizes and games. Today, no one can afford to pay a fortune to get something really special for company gifts, so everyone is cutting back. Boost staff morale by exceeding expectations.
No cash back.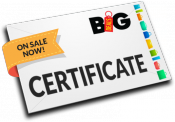 Click images to enlarge.


Great Big Outlet
2815 Losey Blvd. S.
La Crosse, WI 54601
Phone: (608) 796-0265
http://www.greatbigoutlet
service@greatbigoutlet.co